EPS-Deck Concrete Forms - How it Works
EPS-Deck is a light weight, stay-in-place insulated formwork for reinforced concrete "T"-beam and slabs designed for use as floors, decks and roofs in residential and commercial construction.
EPS-Deck is made of interlocking expanded polystyrene (EPS) insulation, with an integrated 18 gauge cold-rolled steel "C" channel stud at 12" o.c. The studs are attached to the EPS formwork at 4′ o.c. and when shoring is placed beneath and perpendicular to the studs it makes for a very sturdy shoring system able to support workers and the uncured concrete during the construction phase.
​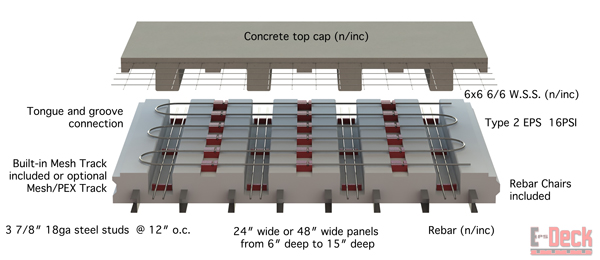 Assembling the EPS-Deck system is easy. The panels are built to any length and design depth required then shipped to site where 2 people can install a panel without any special equipment.
The panels are set on to the end bearing walls and shoring supports side-by-side, then the EPS-Deck rebar chairs and Mesh Support Track (provided) are installed** or for floors with PEX pipe you may use our MESH/PEX Track for an easy installation of your PEX pipe. Rebar is placed on the rebar chairs in the beams and the 6x6 6/6 wire mesh is set on top of the Mesh Support Track plus any other specified reinforcing called for in the plans. Ensure any required perimeter forming is in place and supported. Now you're ready to place the concrete.
**Note: Shoring should be installed before walking on the placed panels.
Once the concrete has reached its design strength the shoring can be removed. The EPS-Deck forms then are left in place to function as insulation, while the 18 gauge studs can be used as furring to attach ceiling or wall finishes. When spans reach 20' or more EPS-Deck's "CeilingLock" is included in the panels' configuration to provide the required attachment from the cast in place concrete to the steel studs.
​