ICF Roof Construction - Insulated Concrete Green Roof Slab Construction Using the ICF Floor & Roof System for Concrete Forming - EPS-Deck
​
What is a Green Roof?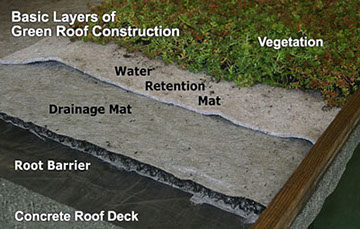 A green roof or living roof is a roof of a building that is partially or completely covered with vegetation and growing medium, planted over a waterproof membrane. It may also include additional layers such as a root barrier, drainage and irrigation system. Container gardens on roofs, with plants in pots or planters, are not generally considered to be true green roofs, although this is debated. Rooftop ponds are also considered green roofs, often used to treat a buildings greywater.
Green roofs are truly multi-purpose, absorbing rainwater, providing insulation, creating a habitat for wildlife, increasing benevolence and decreasing stress of local inhabitants by providing a more aesthetically pleasing landscape, reducing ambient noise levels and helping to lower urban air temperatures by mitigating the heat island effect. They effectively utilize the natural functions of plants to filter water and treat air in urban and suburban landscapes.
Broadly speaking, there are two types of green roof:
Intensive roofs, which are thicker, with a minimum depth of 12.8 cm (5.0 in), and which support a wider variety of plants but are heavier and require more maintenance.
Extensive roofs, which are shallow, ranging in depth from 2 cm (0.79 in) to 12.7 cm (5.0 in), so are lighter than intensive green roofs, and require minimal maintenance.
The Environmental Benefits of Insulated Concrete Green Roof Construction with the EPS-Deck ICF Floor & Roof System Forms & Panels
Green roofs are used to:
Reduce heating requirements (by adding mass and thermal resistance): A 2005 study by Brad Bass of the University of Toronto demonstrated that green roofs can also reduce heat loss and energy consumption under extreme Canadian winter conditions.
Reduce cooling requirements (by evaporative cooling): Reducing loads on a building by fifty to ninety percent, especially if glassed in so as to act as a terrarium and passive solar heat reservoir – a concentration of green roofs in an urban area can even reduce the city's average temperatures during the summer.
Reduce stormwater run-off: A study presented at the Green Roofs for Healthy Cities Conference in June 2004, cited by the EPA, found water runoff was reduced by over 75% during rainstorms.
They create natural habitat: Adding to inner city bio-diversity.
Green roofs filter pollutants and carbon dioxide out of the air: Helping lower disease rates such as asthma.
They filter pollutants and heavy metals out of rainwater: Preserves the quality of freshwater reserves.
They help to insulate a building for sound: The soil helps block lower frequency sound and the plants block higher frequency sound.
LEED Classification Contributing: If installed correctly many living roofs can contribute to LEED points
Increase Urban agricultural space: Contribute to reduced transportation.
Many green roofs are installed to comply with local regulations and government levies, often regarding stormwater runoff management. In areas with combined sewer-stormwater systems, heavy storms can overload wastewater systems causing them to flood and dump raw sewage into local waterways. Green Roof Construction decreases the total amount of runoff and slows the rate of runoff from roofs. It has been found that a well-designed Green Roof can retain up to 75% of rainwater, gradually releasing it back into the atmosphere via condensation and transpiration, while retaining pollutants in the soil and rooting medium. Often, phosphorus and nitrogen are in this category of environmentally harmful substances even though they are stimulating to the growth of plant life and agriculture. When these substances are added to a system, it can create mass biological activity since they are considered limiting factors of plant growth and by adding more of them to a system, it allows for more plant growth. For example, Elevation 314, a recent development in Washington, D.C. constructed with a Green Roof, filters and stores some of its storm water on site by using its Green Roof, obviating the need for expensive underground sand filters to meet D.C. Department of Health storm-water regulations.
Combating the urban heat island effect is another good reason for building a green roof. Traditional building materials soak up the sun's radiation and re-emit it as heat, making cities at least 4 °C (7.2 °F) hotter than surrounding areas. On Chicago's City Hall, by contrast, which features a green roof, roof temperatures on a hot day are typically 1.4–4.4 °C (2.5–7.9 °F) cooler than they are on traditionally roofed buildings nearby. Green roofs are becoming a common part of building construction in Chicago, as well as in Atlanta, Portland, and other United States cities, where their use is encouraged by regulations to combat the urban heat-island effect. Green roofs are a type of low impact development. In the case of Chicago, the city has passed codes offering incentives to builders who construct buildings with Green Roofs. The Chicago City Hall green roof is one of the earliest and most well-known examples of green roofs in the United States; it was planted as an experiment to determine the effects a green roof would have on the microclimate of the roof environment. Following this and other studies, it has now been estimated that if all the roofs in a major city were greened, urban temperatures could be reduced by as much as 7 degrees Celsius.
Building Green roofs also provides habitats for plants, insects, and animals that otherwise have limited natural space in cities. Even in high-rise urban settings as tall as 19 stories, it has been found that green roofs can attract beneficial insects, birds, bees and butterflies. Rooftop greenery complements wild areas by providing stepping stones for songbirds, migratory birds and other wildlife facing shortages of natural habitat.
The Financial Benefits of Building Green Roofs from the EPS-Deck ICF Roof & Floor System
With the initial cost of installing a green roof in mind, there are still many financial benefits that accompany green roof construction.
Green roofing can extend the lifespan of a roof by over 200% by covering the waterproofing membrane with growing medium and vegetation, this shields the membrane from ultra-violet radiation and physical damage. According to their research, Penn State University's Green Roof Research Center expects the lifespan of a roof membrane to increase by as much as three times after greening a roof.
It was estimated by Bianchini, Fabricio, Hewage that building a property with a green roof could increase the real estate value of an average American house by about 7%.
Reduction in energy use is an important property of green roofing. By improving the thermal performance of a roof, green roofing allows buildings to better retain their heat during the cooler winter months while reflecting and absorbing solar radiation during the hotter summer months, allowing buildings to remain cooler. A study conducted by Environment Canada found a 26% reduction in summer cooling needs and a 26% reduction in winter heat losses when a green roof is constructed. With respect to hotter summer weather, green roofing is able to reduce the solar heating of a building by reflecting 27% of solar radiation, absorbing 60% by the vegetation through photosynthesis and evapotranspiration, and absorbing the remaining 13% into the growing medium. Such mitigation of solar radiation has been found to reduce building temperatures by up to 20 °C and reduce energy needs for air-conditioning by 25% to 80%. This reduction in energy required to cool a building in the summer is accompanied by a reduction in energy required to heat a building in the winter, thus reducing the energy requirements of the building year-round which allows the building temperature to be controlled at a lower cost.
Depending on the region in which a green roof is built, incentives may be available in the form of stormwater tax reduction, grants, or rebates. The regions where these incentives will most likely be found are areas where failing storm water management infrastructure is in place, urban heat island effect has significantly increased the local air temperature, or areas where environmental contaminants in the storm water runoff is of great concern. An example of such an incentive is a one-year property tax credit is available in New York City, since 2009, for property owners who green at least 50% of their roof area.
Types of Green Roof Constructions
Green roofs can be categorized as intensive, semi-intensive, or extensive, depending on the depth of planting medium and the amount of maintenance they need. Extensive green roofs traditionally support 10-25 pounds of vegetation per square foot (50–120 kg/m2) while intensive roofs support 80-150 pounds of vegetation per square foot (390–730 kg/m2). Traditional roof gardens, which require a reasonable depth of soil to grow large plants or conventional lawns, are considered intensive because they are labor-intensive, requiring irrigation, feeding, and other maintenance. Intensive roofs are more park-like with easy access and may include anything from kitchen herbs to shrubs and small trees. Extensive green roofs, by contrast, are designed to be virtually self-sustaining and should require only a minimum of maintenance, perhaps a once-yearly weeding or an application of slow-release fertilizer to boost growth. Extensive roofs are usually only accessed for maintenance. They can be built on a very thin layer of soil (most use specially formulated composts): even a thin layer of rockwool laid directly onto a watertight roof can support a planting of Sedum species and mosses. Some green roof designs incorporate both intensive and extensive elements. To protect the roof, a waterproofing membrane is used, which is manufactured to remain watertight in extreme conditions including constant dampness, ponding water, high and low alkaline conditions and exposure to plant roots, fungi and bacterial organisms.
Advances in green roof construction technology have led to the development of new systems that do not fit into the traditional classification of green roof types. Comprehensive green roofs bring the most advantageous qualities of extensive and intensive green roofs together. Comprehensive green roofs support plant varieties typically seen in intensive green roofs at the depth and weight of an extensive green roof system.
Another important distinction in Green Roof construction types is between pitched green roofs and flat green roofs. Pitched sod roofs, a traditional feature of many Scandinavian buildings, tend to be of a simpler design than flat green roofs. This is because the pitch of the roof reduces the risk of water penetrating through the roof structure, allowing the use of fewer waterproofing and drainage layers.
Green Roof Construction in North America
Canada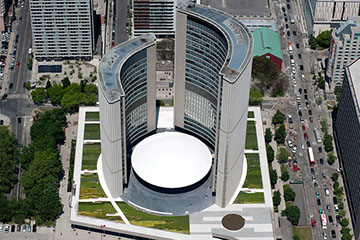 The city of Toronto approved a by-law in May 2009, mandating building green roofs on residential and industrial buildings. There is criticism from Green Roofs for Healthy Cities that the new laws are not stringent enough, since they will only apply to residential building that are a minimum of six storys high. By 31 January 2011, industrial buildings were required to construct 10% or 2,000m² of their roofs green. Toronto City Hall's Podium roof was renovated to include a 32,000 square foot rooftop garden, the largest publicly accessible roof in the city. The green roof was opened to the public in June 2010.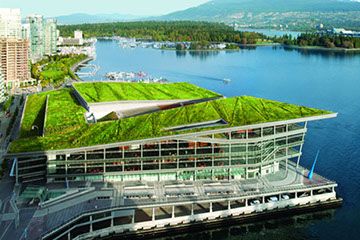 In 2008, the Vancouver Convention Centre installed a six-acre living roof of indigenous plants and grasses on its West building, making it the largest green roof constructed in Canada. The new Canadian War Museum in Ottawa, opened in 2005, also features a wheat grass-covered roof construction.
During the renovation of the Hamilton City Hall in Hamilton, Ontario that spanned from 2007 to 2010, many efforts were taken to enhance the environmentally friendly nature of the structure, which included the building of a grass-covered roof.
Click here to see Toronto Green Roof Construction Standards Supplementary Guidelines
United States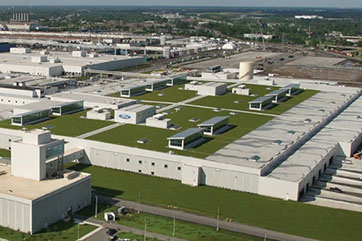 One of the largest expanses of extensive green roof construction is to be found in the US, at Ford Motor Company's River Rouge Plant, Dearborn, Michigan, where 42,000 square meters (450,000 sq ft) of assembly plant roofs are covered with sedum and other plants, designed by William McDonough; the $18 million assembly avoids the need of what otherwise would be $50 million worth of mechanical treatment facilities on site.
Built over Millennium Park Garage, Chicago's 24.5-acre (99,000 m2) Millennium Park is considered one of the largest intensive green roof buildings. Other well-known American examples include Chicago's City Hall and the former Gap headquarters, now the headquarters of YouTube, in San Bruno, CA. Recently, the American Society of Landscape Architects retrofitted their existing headquarters building in Washington, D.C. with a green roof designed by landscape architect Michael Van Valkenburgh.
Another good example of a green roof building in the United States is the Ballard Library in Seattle. This green roof has over 18,000 plants to help with insulation and reduce runoff. The plants used on the roof include Achillea tomentosa (woolly yarrow), Armeria maritima (sea pink, sea thrift), Carex inops pensylvanica (long-stoloned sedge), Eriophyllum lanatum (Oregon sunshine), Festuca rubra (red creeping fescue), Festuca idahoensis (Idaho fescue), Phlox subulata (creeping phlox), Saxifraga caespitosa (tufted saxifrage), Sedum oreganum (Oregon stonecrop), Sedum album (white stonecrop), Sedum spurium (two-row stonecrop), Sisyrinchium idahoense (blue-eyed grass), Thymus serpyllum (wild thyme), Triteleia hyacinthina (fool's onion).
The new California Academy of Sciences building in San Francisco's Golden Gate Park has a green roof that provides 2.5 acres (10,000 m2) of native vegetation designed as a habitat for indigenous species, including the threatened Bay checkerspot butterfly. According to the Academy's fact sheet on the building, the building consumes 30–35% less energy than required by code.
An early green-roofed building (completed in 1971) is the 358,000 sq ft (33,300 m2) Weyerhaeuser Corporate Headquarters building in Federal Way, Washington. Its 5-story office roof system comprises a series of stepped terraces covered in greenery. From the air, the building blends into the landscape.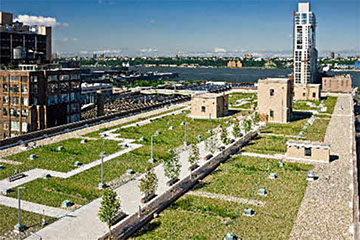 The largest green roof constructed in New York City was installed in midtown Manhattan atop the United States Postal Service's Morgan Processing and Distribution Center. Construction on the 109,000 sq ft (10,100 m2) project began in September 2008, and was finished and dedicated in July 2009. Covered in native vegetation and having an expected lifetime of fifty years, this green roof will not only save the USPS approximately $30,000 a year in heating and cooling costs, but will also significantly reduce the amount of storm water contaminants entering the municipal water system.
Atop the Museum of Modern Art was built a modern sculptural green roof garden spanning over 16,750 Square feet (7,500 + 9,250). This Rooftop is physically inaccessible to the public but has some of the most visible rooftop space in New York. Ken Smith designed MoMA rooftop as a Landscape Architect by using 185 plastic rocks, 560 artificial boxwoods, 300 pounds of clear crushed glass, 4 tons of recycled rubber mulch. His design was awarded the American Society of Landscape Architecture for design in 2009.
Chicago City Hall Roof Garden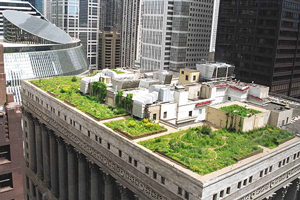 In 2001, Atop Chicago City Hall, a 38,800 Square feet roof garden was constructed serving as a pilot project to assess the impact building green roofs would have on the heat island effect in urban areas, rainwater runoff, and the effectiveness of differing types of green roofs and plant species for Chicago's climate. Although the rooftop is not normally accessible to the public, it is visually accessible from 33 taller buildings in the area. The Garden consists of 20,000 plants of more than 150 species, including shrubs, vines and two trees. The green roof design team was headed by the Chicago area firm Conservation Design Forum in conjunction with noted "green" architect William McDonough. With an abundance of flowering plants on the rooftop, beekeepers harvest approximately 200 pounds of honey each year from hives installed on the rooftop. Tours of the green roof are by special arrangement only. Chicago City Hall Green Roof won merit design award of the American Society of Landscape Architecture (ASLA) competition in 2002.
The 14,000 square feet of outdoor space on the seventh floor of Zeckendorf Towers, formerly an undistinguished rooftop filled with potted plants, make up the largest residential green roof in New York. The roof was transformed in 2010 as part of Mayor Michael Bloomberg's NYC Green Infrastructure campaign, and supposedly serves to capture some of the rain that falls on it rather than letting it run off and contribute to flooding in the adjacent Union Square subway station.
Some cost can also be attributed to maintenance. Extensive green roofs have low maintenance requirements but they are generally not maintenance free. German research has quantified the need to remove unwanted seedlings to approximately 6 seconds/m²/year. Maintenance of green roofs often includes fertilization to increase flowering and succulent plant cover. If aesthetics are not an issue, fertilization and maintenance are generally not needed. Extensive green roofs should only be fertilized with controlled-release fertilizers in order to avoid pollution of the storm water. Conventional fertilizers should never be used on extensive vegetated roofs. German studies have approximated the nutrient requirement of vegetated roofs to 5gN/m². It is also important to use a substrate that does not contain too many available nutrients. The FLL guidelines specify maximum-allowable nutrient content of substrates.
One of the oldest American green roofs in existence is atop the Rockefeller Center in Manhattan, built in 1936. This roof was primarily an aesthetic undertaking for the enjoyment of the Center's workers, and remains to this day, having been refurbished in 1986.
Green ICF Roof Construction Using EPS-Deck Insulating Concrete ICF Floor & Roof Deck Forming System
According to the International Green Roof Association (IGRA), the basis for a successful Green Roof building project is "a waterproof roof construction with appropriate load bearing capacity."
By using the highly insulated EPS-Deck Form System, construction professionals can easily and cost effectively build a solid load bearing flat or low slope reinforced concrete roof structure with inherently high insulation values, ideal for finishing with a Green Roof system. The reduction in construction time, labor costs, overall roof profile and materials provided by choosing EPS-Deck forms should significantly encourage the adoption of Green Roofs on domestic and light commercial buildings throughout North America, especially considering all their advantages combined to the EPS-Deck concrete forming systems strongpoints.
ICF Roof CostGET A FREE QUOTE